What does this mean for food tech's wine's future?
Nothing can truly compare to the excitement of  last weeks Kitchology food tech from CES., but this week we are going to focus on wine first.  What is interesting is that winemakers used to rely on nature along with  tradition, but now, many specialists are turning to technology, such as data analysis and tech innovation. Food tech is also considered wine tech.  What does this mean for wine's future?
From WIRED, Napa's Fermenting Your Wine With Submarine Technology.
IN A TRADITIONAL wine fermentation tank, if the yeasts start acting weird, it might be days before anyone smells or tastes the damage. But at Palmaz Vineyards in Napa, California, staff can detect risk factors before they develop into wine-spoiling problems. That's thanks to the food tech such as Fermentation Intelligence Logic Control System, a Minority Report–style setup that tracks the vino at a molecular level, giving the winemaker the information needed to adjust temperatures in different parts of the tank with incredible precision (control over heat = control over yeast). The system is based on a submarine-­industry technology called sono-­densitometry: A tuning-fork-like probe inside each tank measures vibrations 10 times per second, yielding millions of data points about the density of the liquid. That tells you the sugar and alcohol levels, and thus the rate at which fermentation is occurring. Then software slurps up this cloud of data to show, say, temperature variations. That's projected on the dome of Palmaz's fermentation cave—a curved display of charts and graphs showing an ancient process in far-out detail. A geotagging system means that the tanks even "know" exactly which person is standing in front of which tank, so the projections a particular winemaker is working on follow them around. It's like Big Brother for big cabs.
Future Farming Relies on New Technology, according to the Financial Times.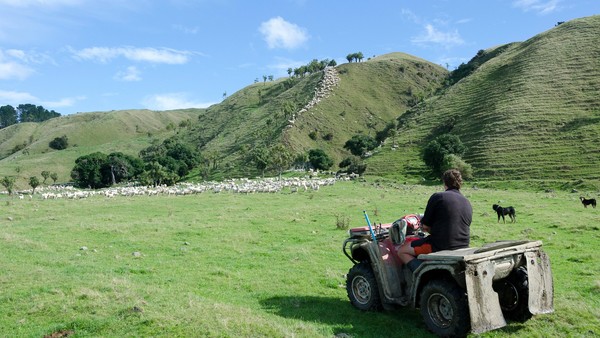 In the blue skies above a livestock farm in New Zealand, a drone flies over flocks of sheep. In the office below, Neil Gardyne, the family farm's owner, uses the images to identify ewes that are having trouble lambing or newborns that have become separated from their mothers, known as cast sheep.
Instead of a two-hour drive around the 678-hectare farm, the drone sweep takes 30 minutes. This means sorties can be made more frequently, increasing the chances of rescuing distressed sheep and, as a result, the number of deaths of lost newborns on Gardyne's farm has halved. The drone also checks on water troughs, saving the farm more money by reducing machinery running costs.  Another example of food tech gone futuristic!
From Fast Company, Engineering a Vegan Steak Even a Carnivore Would Love.
Carnivores everywhere were shocked (shocked!) this October when the World Health Organization came out with a report that labeled bacon and hamburgers as carcinogenic. It was more bad news for meat-based businesses such as McDonald's, which in 2015 will close more U.S. stores than it opens, the first time this has happened since at least 1970.
Americans' meat consumption is still alarmingly high, just over 200 pounds of red meat and poultry per person in 2014 (second in the world only to Australia), and that number is down from early-2000s highs. True vegetarians are a rare breed: they make up just 2% to 5% of U.S. adults. But a 2012 Gallup poll found that a third of Americans regularly eat meatless meals, driven by health concerns and a growing public awareness of the negative environmental consequences of raising animals for food.
Did we miss something? Let us know by tweeting @Kitchology.